One of our 2018 Introductions
We no longer print and mail a catalog. Rising printing and postage costs are partly to blame, but there is simply no comparison between a printed catalog and the photography on this web site. The printed catalog had only about 10% of the photos that are available on this site and the quality of those printed photos left much to be desired. If you're somewhat old fashioned, like we are, and want something to hold in your hand and mark up you can Download the entire catalog in Adobe Acrobat format (without pictures) and print it out. It's not a very large file and has the exact text that would have been in a printed catalog. PLEASE look to the website listings for availability. We try to keep these pages updated for sold-out items but we don't update the pdf file.
We don't have online ordering, but you can print out an Order Form, make your selections and mail us the form, fax it to 800-934-4747 or call your order in to 800-934-4747. (And next to growing iris, we like best to talk about them.) You can also Email your order in to us.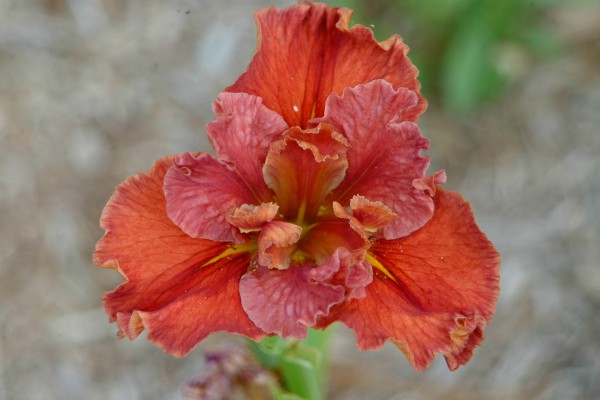 MOOMBA FLARE
One of our 2018 Introductions
This year we are introducing thirteen new irises from four hybridizers; Louisiana iris from Bernard Pryor and Peter Jackson and another bearded beauty from Tom Silvers. We are also introducing irises from Don Grieves of Australia. Prior to this, only his SPLITTER SPLATTER has been available in the U.S. Over the next few years, we will be selling or introducing all of his cultivars. That's his NADINE SARAH above. All should be considered for your collection and can be seen at 2018 Introductions page.
This catalog lists approximately 450 varieties of iris, including many not listed in our 2017 catalog. We now grow over 1,000 different plants including over 700 iris, 200 daylilies, 130 peonies and many other perennials. We offer garden sales of pond plants, including water lilies, and potted varieties of iris, daylilies, peonies and other perennials for Spring planting. Otherwise, we ship bare-root bearded iris beginning mid-July and beardless iris in September.
Our gardening year will begin with a booth at the annual Nashville Lawn and Garden Show, a plant lovers paradise in early March, coming just in time to save you from the winter blahs. This year it will be held March 1 through March 4 and it's well worth a long drive to attend. There are lots of vendors selling great products and the gardens just have to be seen to be believed.
In 2018 our gardens will be open for visitors Wednesday through Sunday, 9 am until 4 pm (Central) from April 18 to July 1. (Other dates by appointment.) Click here for directions. (Please check out our web page At The Farm for a preview of what you'll see when you visit.) We're about 40 miles southwest of Nashville. Come see us! (As always, please let us know if you find any broken links, misspelled words or misidentified plants.)
Macey and Greg McCullough
7675 Younger Creek Road
Primm Springs, TN 38476
800-934-4747